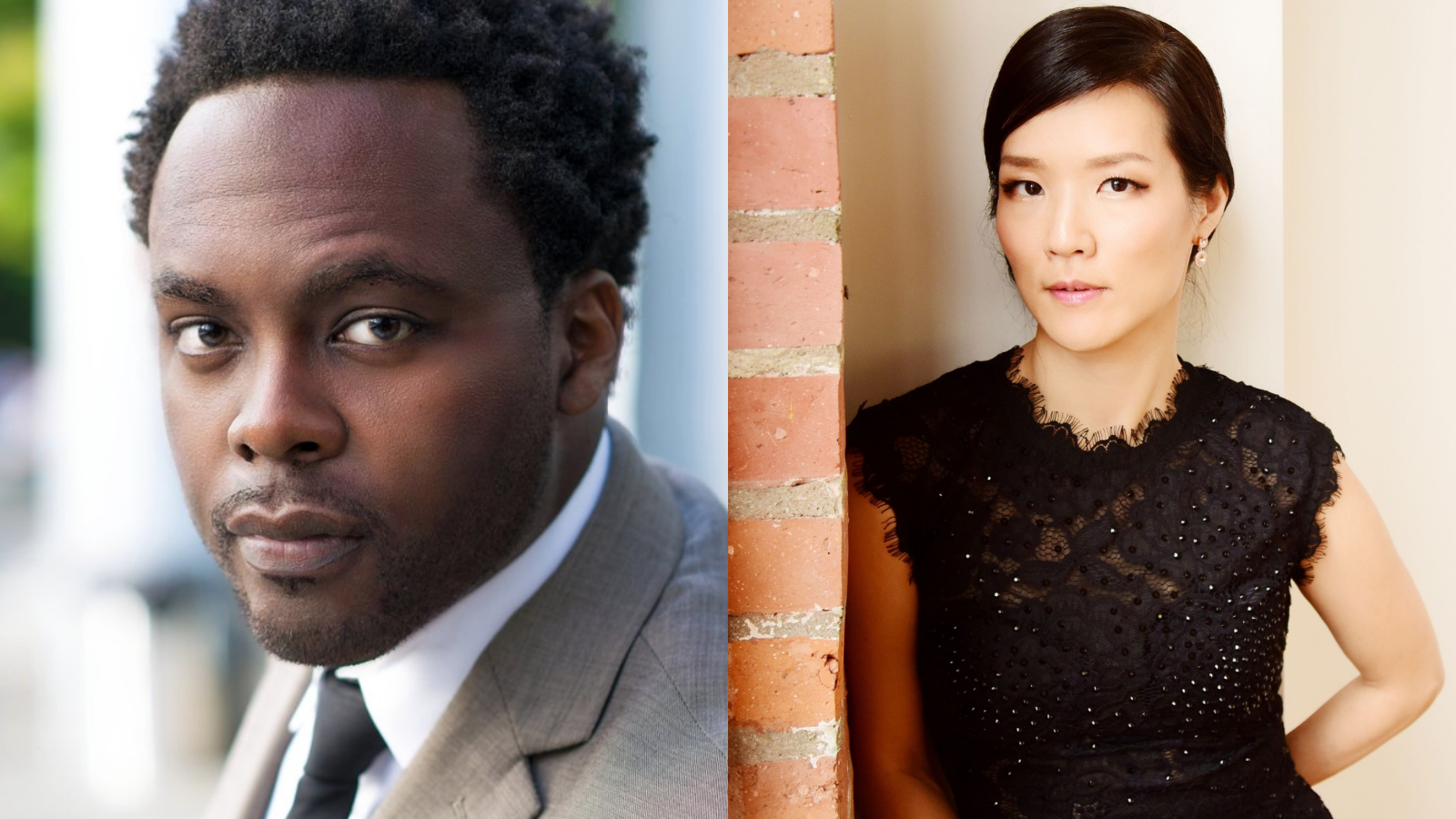 TUESDAY, FEBRUARY 1, 2022
Program
CARL LOEWE (1795-1869)
"Erlkönig" 
RICHARD STRAUSS (1864-1949)
"Wie sollten wir geheim sie halten"
"Traum durch die Dämmerung"
"Zueignung"
MAURICE RAVEL (1875–1937) 
Don Quichotte à Dulcinée
"Chanson romanesque"
"Chanson épique"
"Chanson à boire"
SERGEI RACHMANINOV (1873-1943)
"Sud'Ba"
Intermission
MICHAEL IPPOLITO (b. 1985)
The Long Year (world premiere)
"Winter Night"
"Spring Song"
"The Fawn"
"Mariposa"
"If Still Your Orchards Bear"
"The Oak Leaves"
"The Buck in the Snow"
TRADITIONAL SPIRITUAL Arranged by Damien Sneed
"All Night, All Day"
DOWNLOAD THE FULL PROGRAM BOOKLET WITH TEXTS, TRANSLATIONS & MORE
Artist Bios
Called "a voice for this historic moment" (The Washington Post), baritone Will Liverman continues to bring his compelling performances to audiences nationwide. He starred in The Metropolitan Opera's reopening production of Terence Blanchard's Fire Shut Up In My Bones in fall 2021, in addition to reprising his roles in Akhnaten (Horemhab) and The Magic Flute (Papageno) during The Met's 21-22 season.
Following a summer at Opera Theatre of St. Louis and Aspen Music Festival, additional highlights of Will's 2021-2022 season include the reprise of Fire Shut Up in My Bones with Lyric Opera of Chicago, Spanish Inspirations with Chamber Music Society of Lincoln Center, Florence Price's Song to the Dark Virgin with Chicago Sinfonietta, and Jonathan Dove's Flight with Dallas Opera. 
In February 2021, Cedille Records released his Dreams of a New Day: Songs by Black Composers with pianist Paul Sanchez. The album debuted at number one on the Billboard Traditional Classical chart and The New Yorker praised its "clarity, sensitivity, and barely contained heartbreak." His album, Whither Must I Wander, with pianist Jonathan King, out January 2020 on Odradek Records, was named one of Chicago Tribune's "best classical recordings of 2020."
Recent engagements include starring as the first ever Black Papageno in The Met Opera's holiday production of The Magic Flute, in addition to appearing in The Met's premiere of Philip Glass' Akhnaten (Horemhab) and in Nico Muhly's Marnie (Malcolm Fleet). He also recently appeared in The Love of Three Oranges (Pantalone) at Opera Philadelphia, in Pagliacci (Silvio) at Opera Colorado, in La bohème (Schaunard) with Santa Fe Opera, Dallas Opera, and Opera Philadelphia, and in The Little Prince (The Pilot) with Tulsa Opera. His new opera The Factotum, written together with DJ/recording artist K. Rico, was workshopped by the Lyric Opera of Chicago and the Ryan Opera Center in winter 2020.
Will Liverman has performed the leading role of Figaro in Rossini's Il barbiere di Siviglia with Seattle Opera, Virginia Opera, Kentucky Opera, Madison Opera and Utah Opera. He originated the role of Dizzy Gillespie in Charlie Parker's Yardbird with Opera Philadelphia, in addition to performing the role with English National Opera, Lyric Opera of Chicago, Madison Opera, and at the Apollo Theater. Other highlights include Fellow Travelers (Tommy McIntyre) in the Lyric Opera of Chicago's production for its Lyric Unlimited initiative; The Magic Flute (Papageno) with Florentine Opera and Central City Opera; La bohème (Marcello) with Portland Opera; The Rape of Lucretia (Tarquinius) with Wolf Trap Opera; and Jenůfa (Foreman at the Mill) with Santa Fe Opera. He was also recently featured in the Sphinx Virtuosi concert at Carnegie Hall, in addition to appearing in Schubert's Die Winterreise at The Barns at Wolf Trap Opera. 
Will Liverman is the recipient of the 2020 Marian Anderson Vocal Award, as well as a 2019 Richard Tucker Career Grant and Sphinx Medal of Excellence. He concluded his tenure at the Ryan Opera Center at the Lyric Opera of Chicago in 2015. He holds his Master of Music degree from The Juilliard School and a Bachelor of Music degree from Wheaton College in Illinois. Please visit www.willliverman.com for more information.
---
Acclaimed by Opera News as being "among the top accompanists of her generation," and "A colouristic tour de force" by The New York Times, GRAMMY Award® nominated pianist Myra Huang performs in recitals and chamber music concerts around the world. Highly sought after for her interpretation of lieder and art song as well as her depth of musicianship and impeccable technique, she regularly performs with acclaimed opera singers around the world. This season, she performs recitals with singers Lawrence Brownlee, Michael Spyres, Sasha Cooke, Will Liverman, Joshua Hopkins, and Nicholas Phan.
Huang is the Head of Music of The Lindemann Young Artist Development Program at The Metropolitan Opera. She has also served on the music staffs of the Washington National Opera, Houston Grand Opera, New York City Opera, and The Palau De Les Arts in Valencia, Spain.  She worked closely with director Lorin Maazel and Zubin Mehta as an assistant conductor at the Palau De Les Arts. From 2011-2013, she served as the Head of Music Staff at New York City Opera. She served as staff pianist for The Operalia Competition from 2005-2020. Huang is the head coach at The Aspen Music Festival Opera Theater and is on faculty of The Collaborative Piano department at The Manhattan School of Music this year.
Huang is an avid recitalist and recording artist.  Her recordings have received critical acclaim from publications such as The New York Times, Gramophone UK, Opera News, and The Boston Globe. Her album Gods and Monsters, with tenor Nicholas Phan, was nominated for the "Best Classical Vocal Solo Album" category at the 2018 GRAMMY Awards®. Of this album, Opera News stated that "Huang matches the tenor with pianistic arsenal of colors and attacks, controlled by her astonishing technique." Other albums include Illuminations, Winter Words and Still Falls the Rain on the Avie label with Nicholas Phan, and Paysages on the Bridge label with soprano Susanna Phillips, all released to critical acclaim. Her newest album with tenor Nicholas Phan, Clairières dans le ciel, was also nominated for a GRAMMY® by the Recording Academy in the "Best Classical Vocal Solo Album" category this past 2021 season. Huang is a Steinway Artist.
Notes on the Program
By Arthur R. Smith 
Baritone Will Liverman and pianist Myra Huang begin the program with a very familiar text in an unfamiliar setting. Goethe's grim ballad "Erlkönig" from 1782 tells the story of a child on horseback with his father, speeding through the night. In each stanza the child is tempted by a spirt, the elf-king whose, temptations increasingly terrify him. 
As a lied, this is best known in the setting by Franz Schubert—one of his most harrowing works, complete with the driving fury of octaves that barrel down on the listener from the first measures. Carl Loewe (1796-1869), a song and ballad composer who was admired by Goethe, provides the version we hear tonight. Loewe creates an equally powerful picture—but drawn on a realistic scale, rather than the fantastical image in Schubert. Here the elf-king is embodied beguiling arpeggios as the music pauses. And in another contrast, the end delivers its tragic shock softly. 
We next turn to lieder by Richard Strauss (1864-1949), three works forming a triptych of three of the composer's modes. In "Wie solten wir geheim sie halten," from 1888, we get the ardent Strauss—the protagonist bursting with love that transforms nature into an emblem of a passion. (Flowers, brooks, and trees fulfill their classic lieder duty of listening attentively.) "Traum durch die Dammerung" brings us murmurs at dusk—this almost seems a Strauss 'torch song,' the seductive melody unfolding over a gentle ripple of a piano line. The set closes with the composer in his "rapture" mode. "Zueignung" unfolds its affirmations in broadly sweeping melodies that unfold over an accompaniment that lacks nothing for passion of its own. 
Maurice Ravel (1875-1937) wrote the set of Don Quichotte à Dulcinée songs intending them for use in a film of the Cervantes novel directed by G.W. Pabst. In the event, they were not used—Pabst chose a set by Jacque Ibert which were performed by the great bass Feodor Chaliapin, who played the title character. Ravel's works have remained a concert favorite, however, with the light touch that French composers going back at least to Bizet, bring to Spanish rhythms and themes. This is an elegant, and poetic Don Quichotte, whose exploits are somehow wise. These works from 1933 were the last Ravel wrote. He was already afflicted with the neurodegenerative disease that would rob him of his memory and motor control. 
Feodor Chaliapin provides a link to the next work, Rachmaninov's "Fate," to a bleak narrative poem by Aleksey Apukhti. Sergei Rachmaninov (1873-1943) wrote this at the end of the 1890s for Chaliapin, and you'd have to look to the most tragic moments in Russian opera for its equal as a dramatic scena. The central musical idea is the opening motive of Beethoven's 5th Symphony, which recurs throughout, except for a gentle lyrical moment in which happiness seems on the brink of possibility. But the "knock, knock, knock" insistently reminds that all happiness comes to an end. This theme resonated with Rachmaninov, who had already had great professional and personal setbacks, particular the disastrous premiere of his first symphony. 
Composer Michael Ippolito provides this note for his cycle The Long Year, a commission by Vocal Arts DC receiving its world premiere in this performance. 
The Long Year is a set of seven songs to poetry by Edna St. Vincent Millay (1892-1950). On the surface, this set is simply a collection of seasonal nature poems, arranged according to a calendar year (starting with winter, moving through spring, summer, and fall, and ending with winter). But beneath the surface, something seems to be wrong with the state of nature in these poems, or humanity's relationship to the natural world. While Millay wrote these words in the first part of the twentieth century, I couldn't help reading our current climate collapse into these texts. Through that lens, these songs express my own longing for a return to a right relationship with the landscape, and other living beings, and with the weather and the progression of the seasons, but also my awareness that this relationship is irretrievably lost. The Long Year resides in this state of longing for something you know is gone forever. 
The title comes from another poem, one of Millay's masterful sonnets: 
But you were something more than young and sweet
And fair, — and the long year remembers you. 
The recital closes with an arrangement of a traditional spiritual song by acclaimed multi-genre and multi-faceted musician Damien Sneed, "All Night All Day."  Educated at Howard University, Peabody Conservatory and New York University, among other institutions, he is on the faculty of Manhattan School of Music, where he teaches courses in conducting, African American Music History, piano, voice, and composition, as well as leading ensembles. This is in addition to a career as a performer, conductor, arranger, and producer for arts organizations nation-wide including, to mention only a few, Houston Grand Opera, Jazz at Lincoln Center, Opera Theater of St. Louis, Carnegie Hall, and his own ensembles, including 70-piece Chorale LeChateau. For more information visit, https://www.damiensneed.com/
Optimize Your Livestream
Watch on your TV
---
Use or hide chat 
---
Adjust the volume
Hover the cursor over the video you are currently watching to make the video controls visible.

On the bottom right, you should see volume controls.

To control how high or low the volume is, hover the cursor over the volume bar and click the left side to lower the volume or the right side to raise the volume.

If you'd like to mute the video entirely, click all the way to the far left side so none of the bars are highlighted. Click again to unmute.



---
Adjust the quality/resolution 
If your playback is choppy or slow, try adjusting the quality/resolution in the web player manually by clicking the gearwheel icon in the lower right corner of the player.
P.O. Box 42423
Washington, DC 20015