Since its inception Vocal Arts DC has brought "Informance" programs including at least two outstanding local singers and a professional pianist to area elementary, secondary and high schools, including the Duke Ellington School of the Arts in Washington, DC starting in 2010.
Supervised by Vocal Arts DC board member and noted vocal pedagogue Elizabeth Daniels, our education program has consolidated as of the 2019-2020 academic year to an intensive collaboration with the Ellington School, focused on individual and group coaching of song literature and concluding with a year-end competition awarding scholarship cash prizes to encourage students of outstanding potential.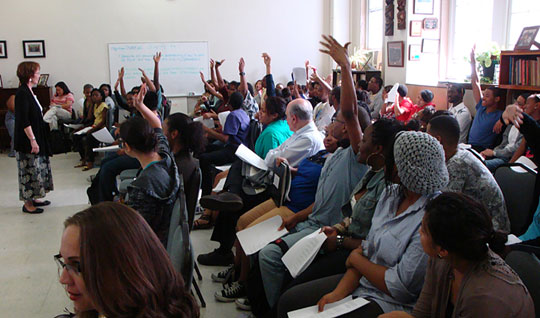 Art Song Discovery Competition
From 2000-2018, Vocal Arts DC hosted a juried song competition for area singers, the Art Song Discovery competition, with a mission of providing performance opportunities and cash prizes to singers who aspired to include song literature among their professional achievements. Winners were showcased both in free performances introducing new audiences to the classical song genre as part of the Kennedy Center's free Millennium Stage series, and in solo recitals in partnership with The Phillips Collection.
As we move forward, our plans include an expansion of free outreach performances both at the Kennedy Center in its new Reach complex, and in other area venues, engaging both recent past winners of our own competition and other outstanding area singers with a particular affinity for song.
2018 Alexandra Nowakowski, soprano & Matthew Hill, tenor 
2017 John Matthew Myers, tenor & Christine Lyons, soprano
2016 Zachary Burgess, bass-baritone & Chloé Olivia Moore, soprano 
2015 Vanessa Vasquez, soprano & Shabnam Kalbasi, mezzo-soprano
2014 Colleen Daly, soprano & Julia Dawson, mezzo-soprano
2013 Natalie Conte, soprano & Matthew Morris, baritone
2012 Heather Bingham, soprano & Jeffrey Grayson Gates, baritone
2011 Kate Jackman, mezzo-soprano & Sarah Mesko, mezzo-soprano
2010 Laura Strickling, soprano & Melissa Wimbish, soprano
2009 Aundi Marie Moore, soprano & Jennifer Edwards, soprano
2008 Laura Stuart, soprano & Steven Combs, baritone
2007 Brooke Evers, soprano & Michael Gallant, tenor
2006 Lisa Eden, soprano & Danielle Talamantes, soprano
2005 Randa Rouweyha, soprano & Jeffrey Tarr, bass
2004 Sarah Wolfson, soprano & Lee Poulis, baritone
2003 Lorriana Markovic, soprano & Stacey Mastrian, soprano
2002 Amanda Gosier, soprano & Joshua Saxon, baritone