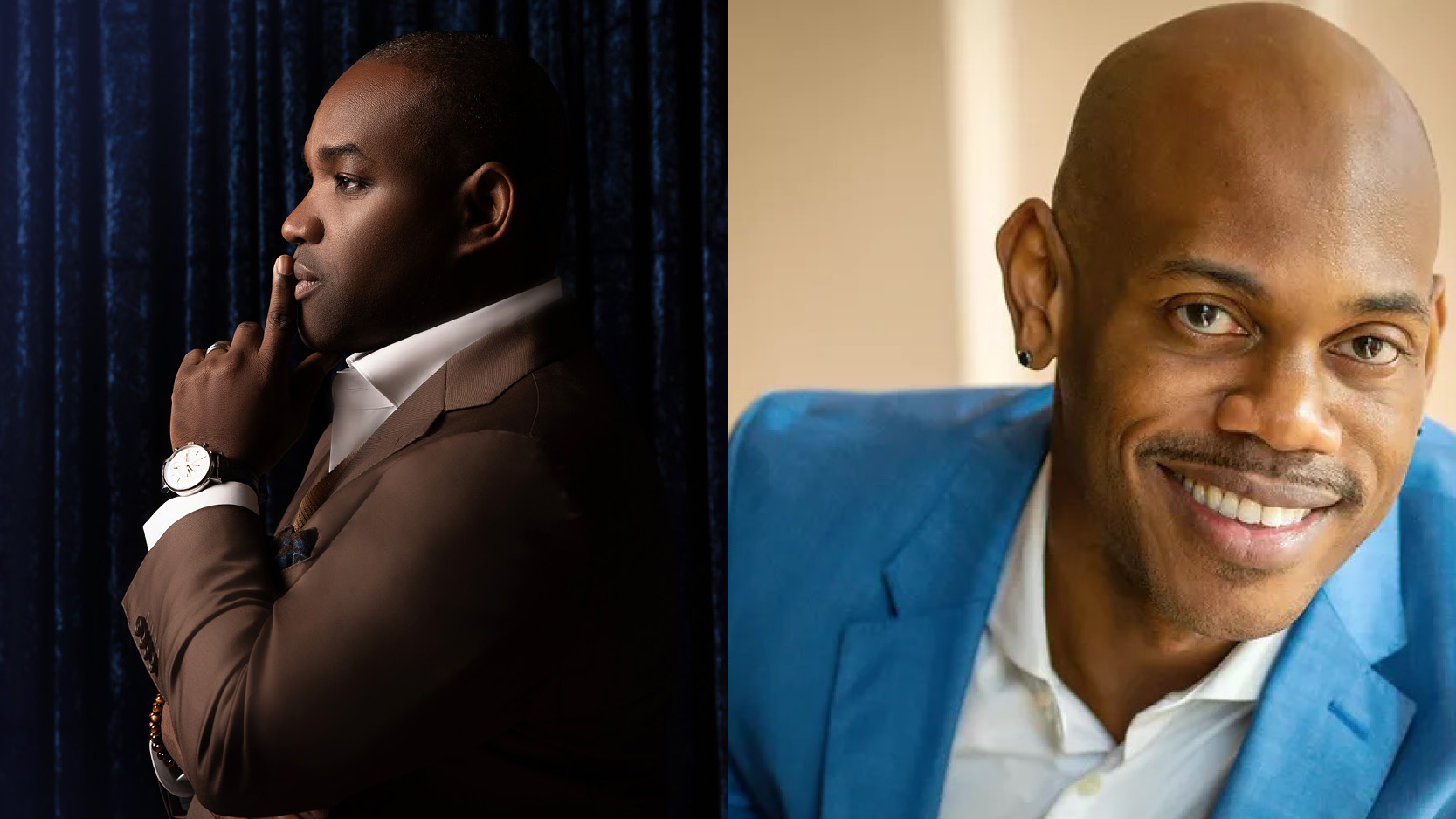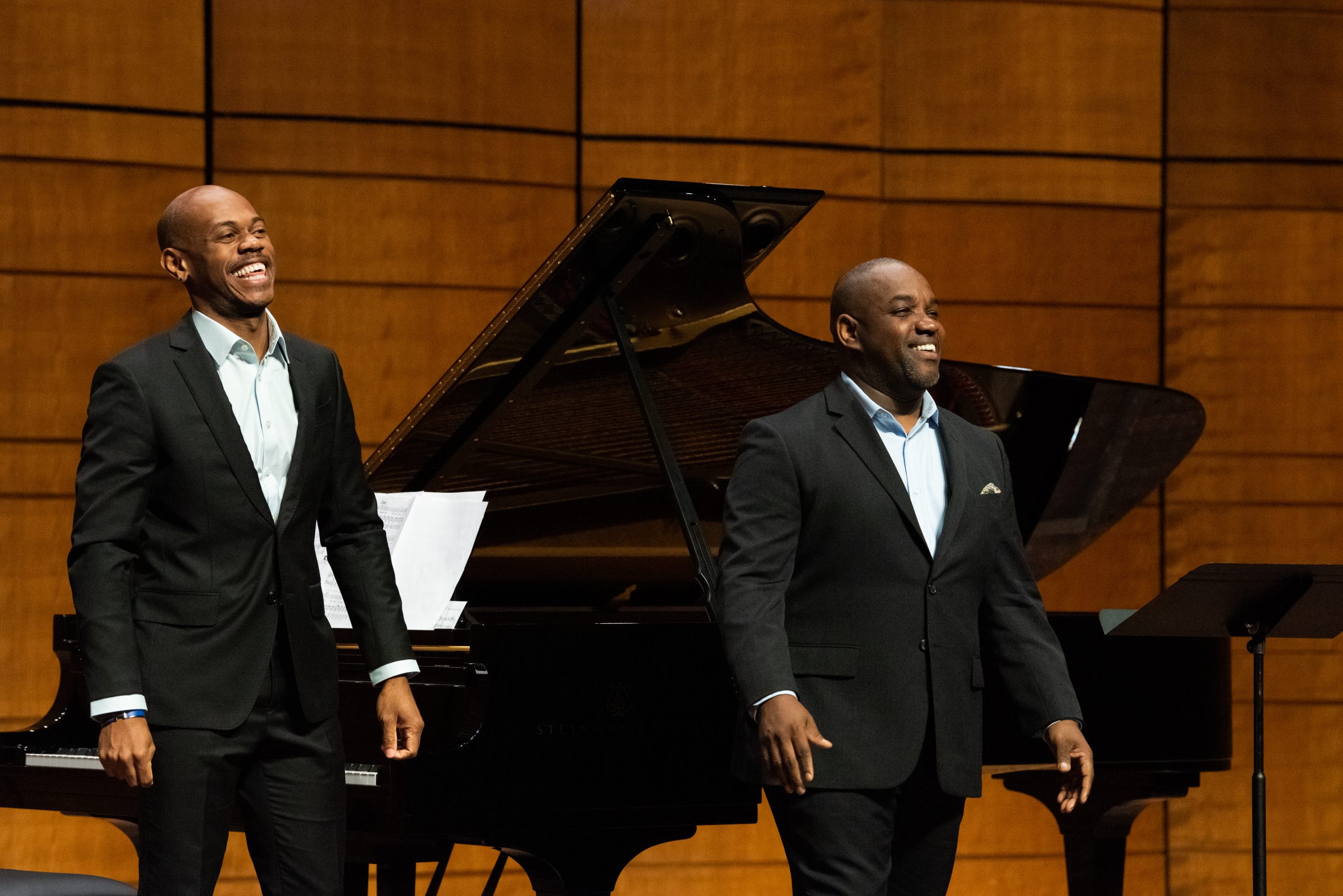 LAWRENCE BROWNLEE, tenor
KEVIN J. MILLER,

piano
THIS RECITAL IS PRESENTED IN PARTNERSHIP CAAPA, THE COALITION FOR AFRICAN AMERICANS IN THE PERFORMING ARTS
2:00 PM at the Kennedy Center Terrace Theater

One of the most beloved and respected artists of his generation, tenor Lawrence Brownlee is far more than "one of the most in-demand singers today" (NPR), capable of singing seemingly anything from the traditional canon to works composed specifically for him (Tyshawn Sorey's song cycle Cycles of My Being and Daniel Schnyder's opera Charlie Parker's YardBird). He has also become an activist voice for equality in the field of classical music through his weekly online Facebook program "The Sitdown with LB," and continues to speak on behalf of diversification. A particular favorite of Washington audiences, he has conceived the idea for this recital, entitled Rising, of a program comprised entirely of new works commissioned from living African-American composers set to poetry of the Harlem Renaissance.
"These past years have been a trial, both for humanity as a whole, and the African-American population here in the United States. But through all these many challenges we have faced, I have also seen moments of strength, inspiration, hope, and great beauty. It is those themes of uplift, elevation, and rebirth that we have tried to focus on with this new project Rising, taking poems from the giants of the Harlem Renaissance, and working with some of today's most talented African-American composers, to create something that speaks not just to our struggles, but to our triumphs." –Lawrence Brownlee
Program included Robert Owens' song cycles Desire and Silver Rain, Margaret Bonds' Songs of the Seasons, and selections by Jeremiah Evans, Jasmine Barnes, Carlos Simon, Brandon Spencer, Shawn Okpebholo, Joel Thompson, and Damien Sneed. Download the program.
Artist Bios
LAWRENCE BROWNLEE is a leading figure in opera, both as a singer on the world's top stages, and as a voice for activism and diversity in the industry. Captivating audiences and critics around the globe, he has been hailed as "an international star in the bel canto operatic repertory" (The New York Times), "one of the world's leading bel canto stars" (The Guardian), and "one of the most in demand opera singers in the world today" (NPR).
In the 22-23 season, Brownlee performs a program with longtime friend, collaborator, and fellow Rossini expert Michael Spyres titled, "Amici e Rivali" at the Theatre des Champs-Élysées in January 2023, in addition to the premiere of an exciting new program titled "Rising" which will feature Brownlee and pianist Kevin J. Miller performing newly commissioned songs by composers Shawn Okpebholo, Damien Sneed, Joel Thompson, and others with texts drawn from James Weldon Johnson and other great Black writers of the Harlem Renaissance. "Rising" will be performed at venues across the U.S. including Carnegie Hall, the Kimmel Center, Calderwood Studio at GBH Boston, and the Schwartz Center for the Performing Arts at Emory University. He made his role debut as Rodrigo in Rossini's Otello as part of Opera Philadelphia's Festival O22 in September 2022. In November, Brownlee returned to Lyric Opera of Chicago for the title role of Le comte Ory, and as Elvino in Bellini's La Sonnambula at Teatro Real in Madrid in December. Brownlee performed one of his signature Rossini roles as Count Almaviva in Il Barbiere di Siviglia at the Royal Opera House in Covent Garden in February 2023. Brownlee's season ends with his return to the Metropolitan Opera as Tamino in a new production of Die Zauberflöte.
In spring 2021, Brownlee joined The Juilliard School as a Distinguished Visiting Faculty Member. He serves as artistic advisor for Opera Philadelphia, where his responsibilities include increasing and expanding audience diversity, advocating for new works, and liaising with the General Director from the perspective of a performing artist. "As an artist, I think it is important that we are actively advocating for this beautiful art form we love so much," said Brownlee,"ensuring that it will be alive and well for many years to come. Mr. Brownlee also serves as an Ambassador for Lyric Opera of Chicago's Lyric Unlimited and is an Ambassador for Opera for Peace. lawrencebrownlee.com
---
American pianist and collaborator KEVIN J. MILLER is acclaimed for his dynamically artful performances. Recent collaborations include recitals with international tenor Lawrence Brownlee at Carnegie Hall and Houston Grand Opera, countertenor John Holiday at the Kennedy Center and The Barbican in London, Joseph Calleja and Nadine Sierra at the Supreme Court of the United States, as well as an appearance with Mr. Calleja on NPR's Tiny Desk Concert series.  Mr. Miller prepared soprano Jessye Norman for performances of Laura Karpman's production of Ask Your Mama, which was performed at Carnegie Hall.  He also collaborated with the acclaimed countertenor, David Daniels, in a recital at the Glimmerglass Festival.  He can be heard on piano on the recording Been in da Storm So Long, which features baritone Kenneth Overton.
This New York native has been on the fast track to success since his days as a student at the Boys Choir of Harlem.  Beginning his musical studies at the age of 8, Mr. Miller was a featured soprano soloist – most notably in Vivaldi's Gloria and Lake George Opera Association's production of A Midsummer Night's Dream.  While a student at the Boys Choir of Harlem, he studied piano with the late conductor and pianist Warren Wilson. It was also during these years that Mr. Miller began his work as an accompanist, having accompanied the choir on its tours of Europe, Israel, Austria, and Japan.
Mr. Miller studied at the Mannes College of Music, where he received a Bachelor of Music degree in Piano.  He continued his studies at the University of Michigan School of Music where he received both a Master of Music degree and the Artist Diploma in Collaborative Piano under the tutelage of Martin Katz.
In addition to his formal studies, Mr. Miller has been a participant in some of the country's most prestigious festivals and young artist apprenticeships that include The Tanglewood Institute of Music, Aspen Summer Music Festival, The Cleveland Art Song Festival, San Francisco Opera's Merola Opera Program, Washington National Opera's Domingo-Cafritz Young Artist Program and the Glimmerglass Festival.  Upon completion of his apprenticeship at the Glimmerglass Festival, he was invited to serve as a vocal coach at the Glimmerglass Festival. kevinmillerpiano.com
"With his sweet tone, fastidious pitch and poetic phrasing, Brownlee made familiar fare sound intriguingly fresh, banishing for a moment the ghosts of Caruso and Pavarotti."
Alex Ross, The New Yorker
P.O. Box 42423
Washington, DC 20015