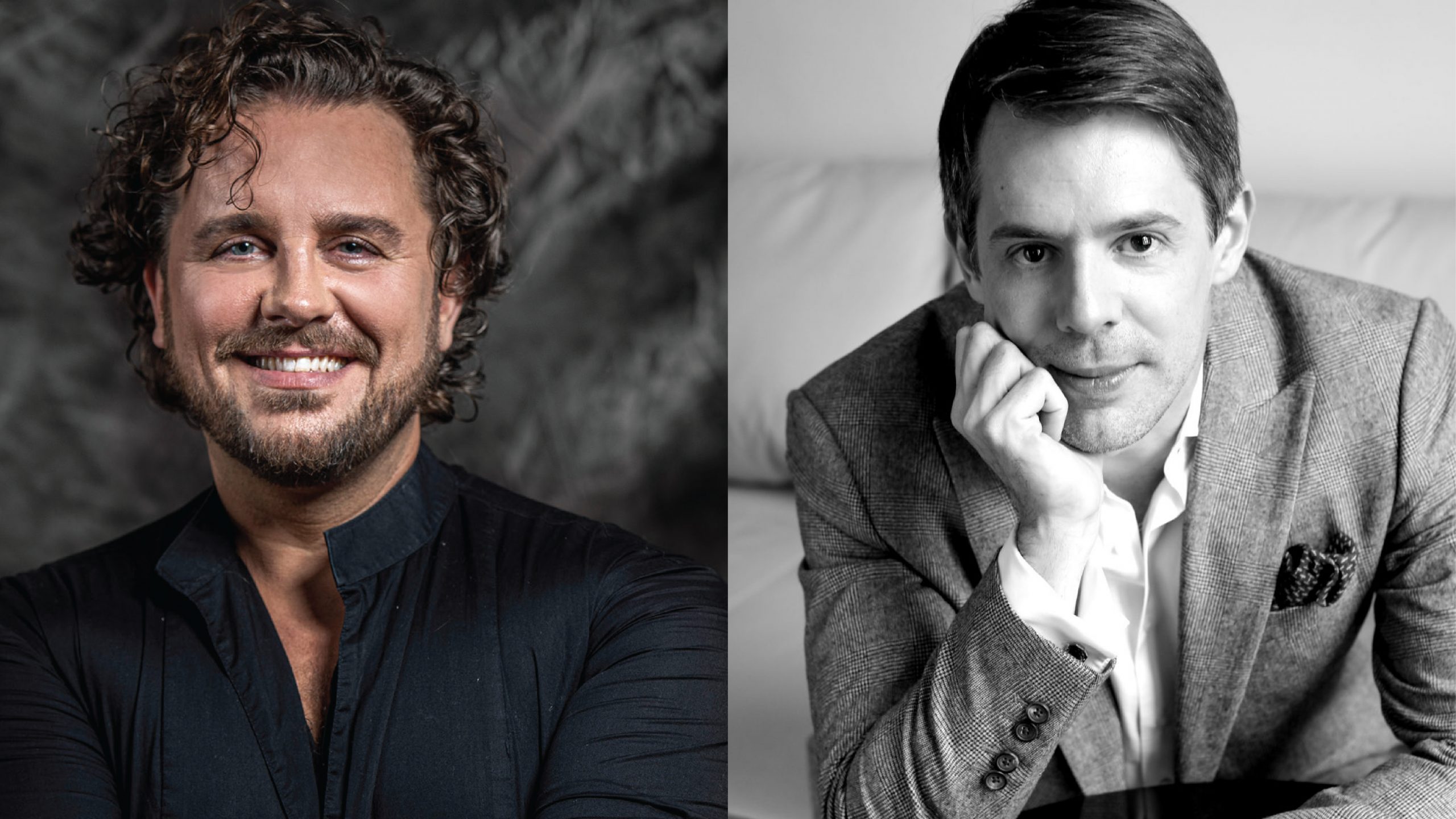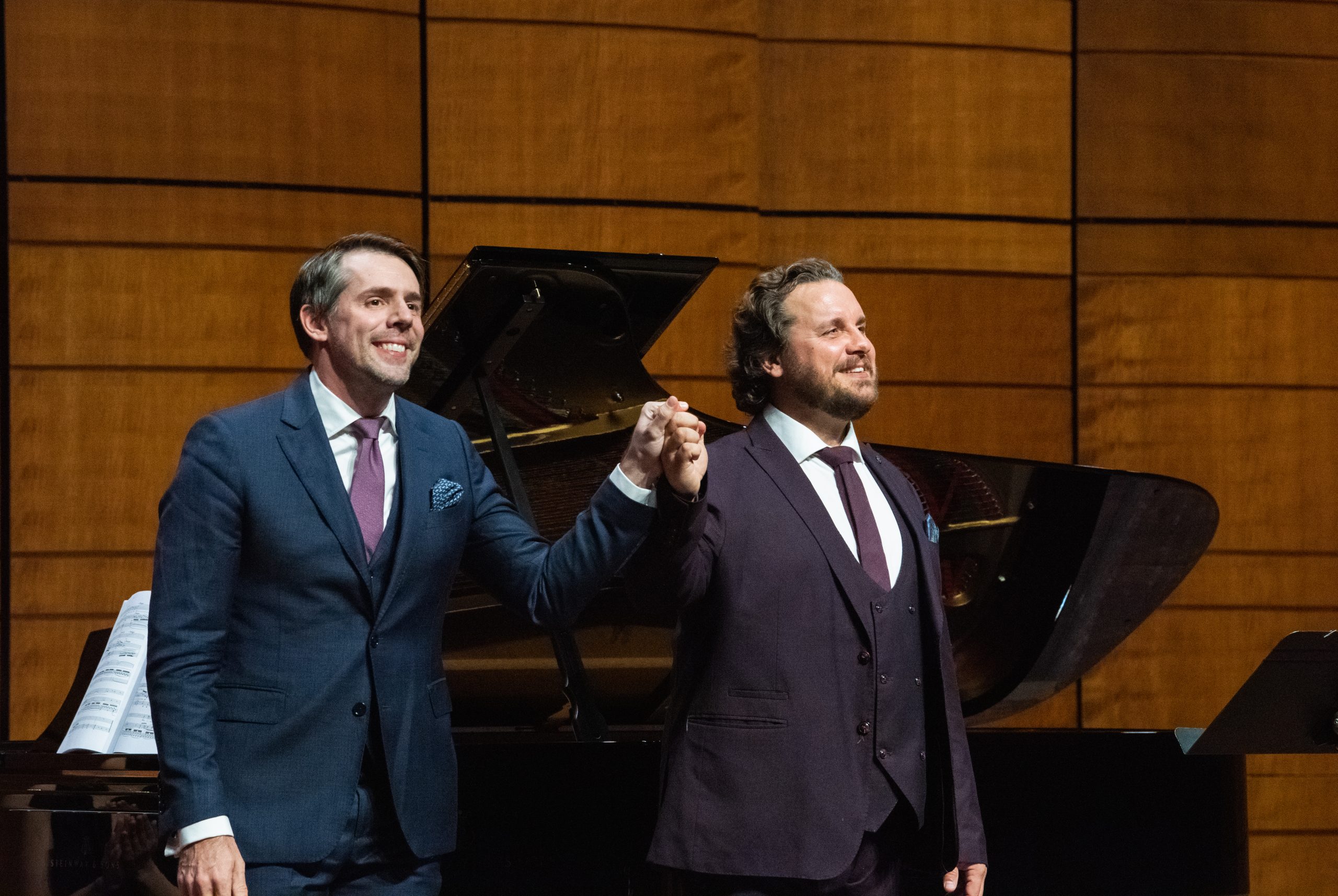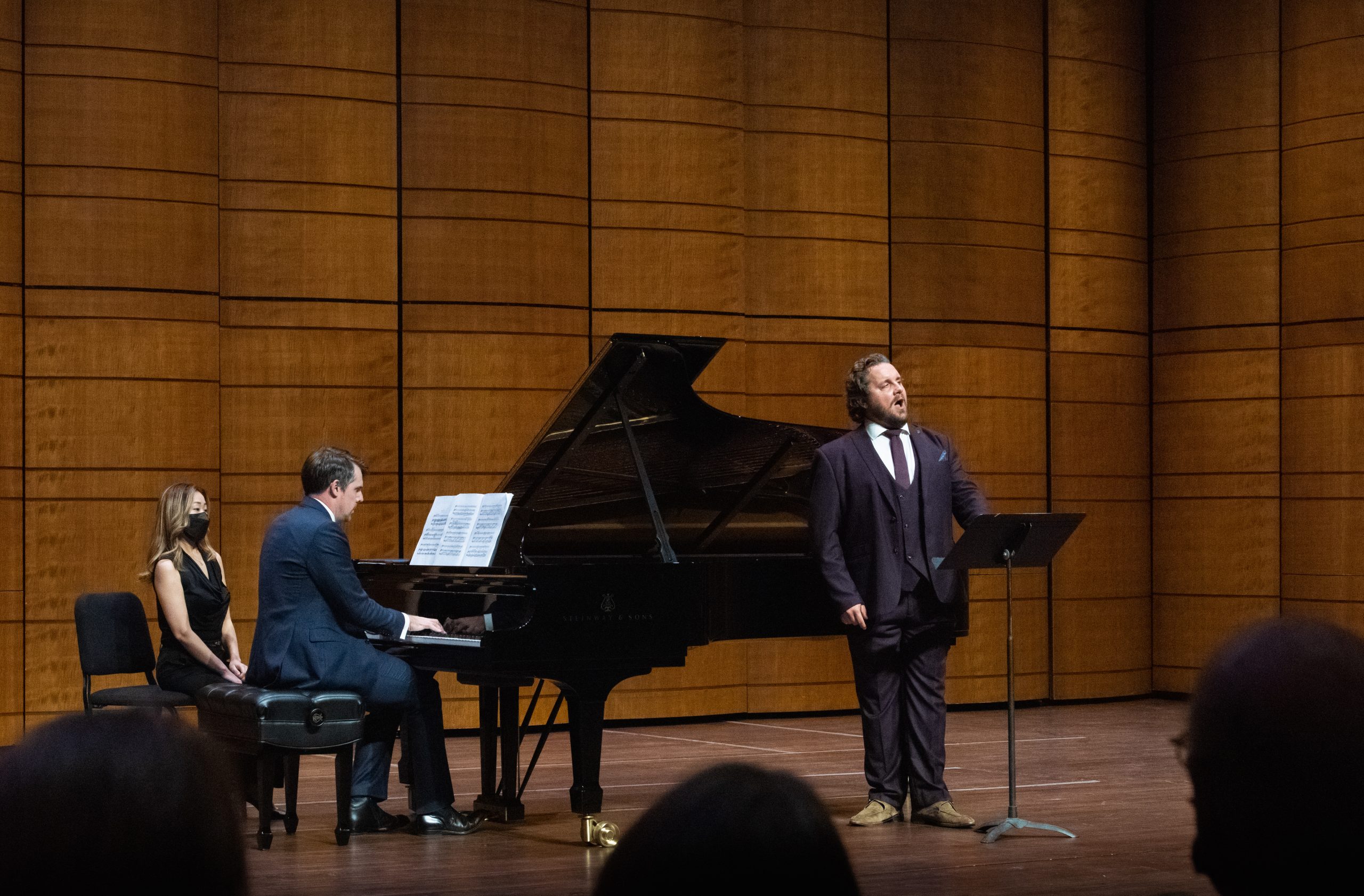 MICHAEL SPYRES, tenor
MATHIEU PORDOY,

piano
PERFORMED ON MONDAY, OCTOBER 10, 2022
Described by London's Opera magazine as "A tenor who has the world at his feet," American Michael Spyres has a vast repertoire ranging from Rossini to Wagner. Over the past several seasons, his meteoric rise has brought him to triumphant debuts at the Vienna State Opera, Bavarian State Opera, Salzburg Festival, Milan's Teatro alla Scala and London's Covent Garden, among many others. His unique range, effortlessly encompassing notes usually accessible to either baritones or tenors, but rarely to both, allowed him to become the first singer in its history
to record in the composer's original keys Berlioz's song cycle Les nuits d'été for a forthcoming release on the Erato label. He makes his Washington recital debut between performances as the title character in Mozart's rarely performed Idomeneo at the Metropolitan Opera, a production initially mounted in 1982 as a vehicle for Luciano Pavarotti.
Program included An die ferne Geliebte by Ludwig van Beethoven, Les nuits d'été by Hector Berlioz and Three Petrarch Sonnets by Franz Liszt.
Artist Bios
MICHAEL SPYRES is one of the most sought after tenors of his generation and has been celebrated at many of the most prestigious international opera houses, festivals and concert halls. In the widest range of repertoire his career has taken him from the genres of Baroque to Classical to 20th century, while firmly establishing himself as a specialist in the Bel Canto repertoire as well as Rossini and French Grand Opera.
In the 2021/2022 season Michael presented his award winning debut solo album for Warner, BariTenor. On the opera stage, he performed Florestan in a new staging of Fidelio at the Opéra Comique de Paris and made his much anticipated role debut as Mozart's Idomeneo at the Festspielhaus Baden-Baden. He also returns to the Houston Grand Opera as Roméo in Gounod's Roméo et Juliette and makes his debut as Canio in Pagliacci with the OLOpera. In summer he returns to the Aix-en-Provence Festival in two new productions, singing Pollione in Norma and the title role of Idomeneo. On the concert platform, Michael sang his first Tristan in the second act of Tristan und Isolde at the Opéra de Lyon, made his recital debut with Mathieu Pordoy at the Atelier Lyrique deTourcoing, Théâtre du Capitole Toulouse, Festival Les Volques, and performs two separate recitals in Paris. In 2021/2022, he also starred in concerts with the Ravello Festival, Opera Philadelphia, Strasbourg Philharmonie, Accademia Nazionale di Santa Cecilia , Gran Theatre de Liceu, Theater an der Wien, Théâtre des Champs-Élysees, and Teatro alla Scala.
Recent performances include his house debuts at the Metropolitan Opera in the title role of La damnation de Faust, at the Houston Grand Opera as Fernand in La favorite and at the Theater an der Wien as Licinio in La vestale, his debut with the Berliner Philharmoniker in Oedipus Rex, the title role of Mitridate, Re di Ponto at the Gran Teatre del Liceu of Barcelona and the Palau de les Arts Reina Sofia of Valencia, the title part of Benvenuto Cellini at the Berlioz Festival, the Berliner Festspiele, the BBC Proms and in Versailles, the title role of Les Contes d'Hoffmann at the Bavarian State Opera in Munich, his debut at the Vienna State Opera as Don Ramiro in La Cenerentola and at the Philadelphia Opera as Edgardo in a new staging of Lucia di Lammermoor, his role debuts as Florestan in concert performances of Fidelio with the Basel Chamber Orchestra, as Gualtiero in Il pirata at the Grand Théâtre de Genève, as Chapelou in Le Postillon de Lonjumeau in a new production at the Opéra Comique, in the title role of Vincent D'Indy's Fervaal at the Festival de Radio France Occitanie Montpellier and as Pollione in Norma at Opernhaus Zurich and the Teatro Real of Madrid, in Berlioz's Lélio at the Carnegie Hall and in the title role of La damnation de Faust in Strasbourg (recorded for Warner). In recent years he has also appeared in the title roles of La clemenza di Tito for his debut at the Opéra national of Paris, of Orlando paladino for his Zurich Opera House debut, of Mitridate, re di Ponto in London (Covent Garden), and of La damnation de Faust at the London Proms, the Edinburgh Festival and the Berlioz Festival La Côte-Saint-André; as Fernand in La favorite at the Gran Teatre del Liceu of Barcelona, Vasco de Gama in a new production of L'Africaine at Oper Frankfurt, Don José in Carmen (role debut) at the Théâtre des Champs-Élysées Paris, Énée in Les Troyens (role debut) at the Salle Érasme Strasbourg (recorded for Warner/Erato), Alfredo in the second act of La traviata in the Domingo Gala at the Lyric Opera of Chicago and in Schubert's Messe Es-Dur D 950 at the Salzburg Festival with the Wiener Philharmoniker conducted by Riccardo Muti.
In concert and recital, Michael has recently appeared in La Coruna, Strabourg, Moscow, at the Concertgebouw Amsterdam, Oper Frankfurt and the Teatro Carlo Felice of Genoa.La Coruna, Strabourg, Moscow, at the Concertgebouw Amsterdam, Oper Frankfurt and the Teatro Carlo Felice of Genoa.
Other career highlights are performances at the Teatro alla Scala (Belfiore in Il viaggio a Reims, Rodrigo in La donna del lago), Salzburg Festival (Betulia Liberata), Royal Opera House Covent Garden (La donna del lago), Liceu Barcelona (Les contes d'Hoffmann), Lyric Opera of Chicago (Die Fledermaus, The Merry Widow), La Monnaie Brussels (Arnold in Guillaume Tell, Mitridate, re di Ponto), Dutch National Opera (Libenskoff in Il viaggio a Reims), Semperoper Dresden (Giannetto in La gazza ladra), Théâtre des Champs-Élysées of Paris (Mitridate, Pirro in Ermione), New York Carnegie Hall (Beatrice di Tenda, Missa Solemnis), Gewandhaus Leipzig (Mendelssohn's Lobgesang), Bunka Kaikan Hall Tokyo (La damnation de Faust), Aix-en-Provence Festival (Il trionfo del tempo e del disinganno), Rossini Opera Festival Pesaro (Baldassare in Ciro in Babilonia, a solo recital, Rodrigo in La donna del lago and the title role of Aureliano in Palmira) and the BBC Proms (Missa Solemnis).
Michael Spyres was born in Mansfield (Missouri) where he grew up in a family of musicians. He began his studies in the U.S.A. and continued them at the Vienna Conservatory. He first sprang to international attention in 2008 in the title role of Rossini's Otello at the Rossini in Wildbad Festival and as an ensemble member of Deutsche Oper Berlin where he made his debut as Tamino in Die Zauberflöte.
Mr Spyres has worked with conductors such as Riccardo Muti, Sir John Eliot Gardiner, Sir Andrew Davis, Sir Mark Elder, Valery Gergiev, Kirill Petrenko, Fabio Luisi, Alberto Zedda, Michele Mariotti, Emmanuelle Haïm, Christophe Rousset and Evelino Pidò.
He has recorded Berlioz's Les Troyens (Erato), Rossini's La gazzetta, Otello, Le siège de Corinthe and Guillaume Tell (Naxos) as well as La petite messe solennelle (Naive), Donizetti's Les martyrs and Le Duc d'Albe (Opera Rara), Mazzoni's Antigono (Dynamic), Meyerbeer's Les Huguenots (ASO), Schumann's Faust-Szenen (ASO), Verdi's Otello (CSO) and his solo albums A Fool For Love (Delos) and Espoir (Opera Rara). Ciro in Babilonia and Aureliano in Palmira from Pesaro (Opus Arte), Medea in Corinto from Martina Franca, Guillaume Tell from Bad Wildbad and Les contes d'Hoffmann from Barcelona (Erato) are available on DVD/Blu-Ray. michaelspyres.com
---
French collaborative pianist and recitalist MATHIEU PORDOY has emerged as one of the most promising coaches of his generation. Internationally acclaimed, he has coached at the most prominent opera houses, including the Vienna State Opera (the complete version of Don Carlos), Paris Opera (Les Huguenots, L'Enfant et les sortilèges), Opernhaus Zürich (Les contes d'Hoffmann) and Rossini Opera Festival (Moïse et Pharaon) . He also has given master classes at the Mariinsky Academy of Young Opera Singers and held staff positions with the Canadian Vocal Arts Institute in Montreal and International Vocal Arts Institute in Israel.

In 2019, Mr. Pordoy made a double debut at Carnegie Hall in Berlioz's Lélio with Sir John Eliot Gardiner and in recital with Sabine Devieilhe, noted  as "a superb partner, whose artistry helped to make this an evening of first-rate chamber music" according to New York Times.
He has pursued the collaboration with Mrs Devieilhe, and they now have performed in Grand Théatre de Genève, Aix Festival, Festival Pulsations bordeaux, in a Strauss-Mozart program recently broadcasted for Arte Television and France Musique. In the season 2022-2023, they will tour with a new program "Vienna" in such places as Grand-Théâtre Bordeaux, Salle Pierre Boulez of Philharmonie de Paris, Wigmore Hall London, Opernhaus Zurich, Musikverein Vienna and Graz. They will also record together a new song album for Erato. 
With American tenor Michael Spyres, he has given a series of recital throughout Europe and Canada: Opéra de Bordeaux, Oper Frankfurt, Salle Gaveau, Festival de Lanaudière, Théâtre de l'Athénée, A Coruña and Las Palmas de Gran Canaria. In September 2022, they are invited for 2 recitals in Armory Park Avenue in New York, and in Kennedy Center at the invitation of Vocal Arts DC.
With Latvian soprano Marina Rebeka, he has given a recital of Italian and Russian songs in Capitole Toulouse, Salle Gaveau and in the Great hall of Tchaikowsky's Conservatory in Moscow, broadcasted live on Rossiya Kultura TV. Their new song Album "Voyages" for PrimaClassic in collaboration with Palazetto Bru Zane will be released in September 2022.
Mathieu made his brilliant debut last summer in Salzburg Festival alongside french tenor Benjamin Bernheim for a recital broadcasted by Medici Tv. They also gave the same program for Theatre des Champs Elysées and Konzerthaus Wien. After this successful collaboration, they also performed a new program for Aix festival in July 2022.
As a specialist in French opera, Mr. Pordoy is regularly invited to such opera houses as the Opéra-Comique in Paris, Opéra de Monte-Carlo, Grand-Théâtre de Luxembourg, Théatre Royal de la Monnaie in Brussels and Théâtre du Capitole de Toulouse.
Since 2008, Mr. Pordoy has collaborated on productions every summer with the Festival d'Aix-en-Provence and served as coach for the festival's young artists' academy. As a vocal coach and accompanist, he has served on the music staffs of the Théâtre des Champs- Élysées (Tristan und Isolde, Pelléas et Mélisande, Roberto Devereux, Nozze di Figaro, Il Barbiere di Siviglia, Giulio Cesare); Auditorio de Tenerife (Werther); Chorégies d'Orange (Il Barbiere di Siviglia, Don Giovanni, Carmen); Oper Köln (Benvenuto Cellini, L'enfant et les Sortilèges, L'Heure Espagnole); Teatro Municipal de Santiago (La Damnation de Faust); and others.
Since their very first collaboration for Mignon in Opéra Comique in 2010, Mathieu has worked very regularly alongside Maestro François-Xavier Roth and they have  collaborated through the last decade on more than 12 operas, notably all the Berlioz' operas for Festival Berlioz La-Côte-Saint-André.
Mr. Pordoy has collaborated with such conductors as Fabio Luisi, Sir John Elliot Gardiner, Gianluigi Gelmetti, Gianandrea Noseda, Louis Langrée, Daniele Gatti, , Michele Mariotti, Mikko Franck, and Alain Altinoglu.
Mr. Pordoy graduated with honors from the Paris Conservatoire, where he taught from 2006 to 2011. mathieupordoy.com
"No other singer can match the singular style of tenor Michael Spyres."
Henry Stewart, Opera News