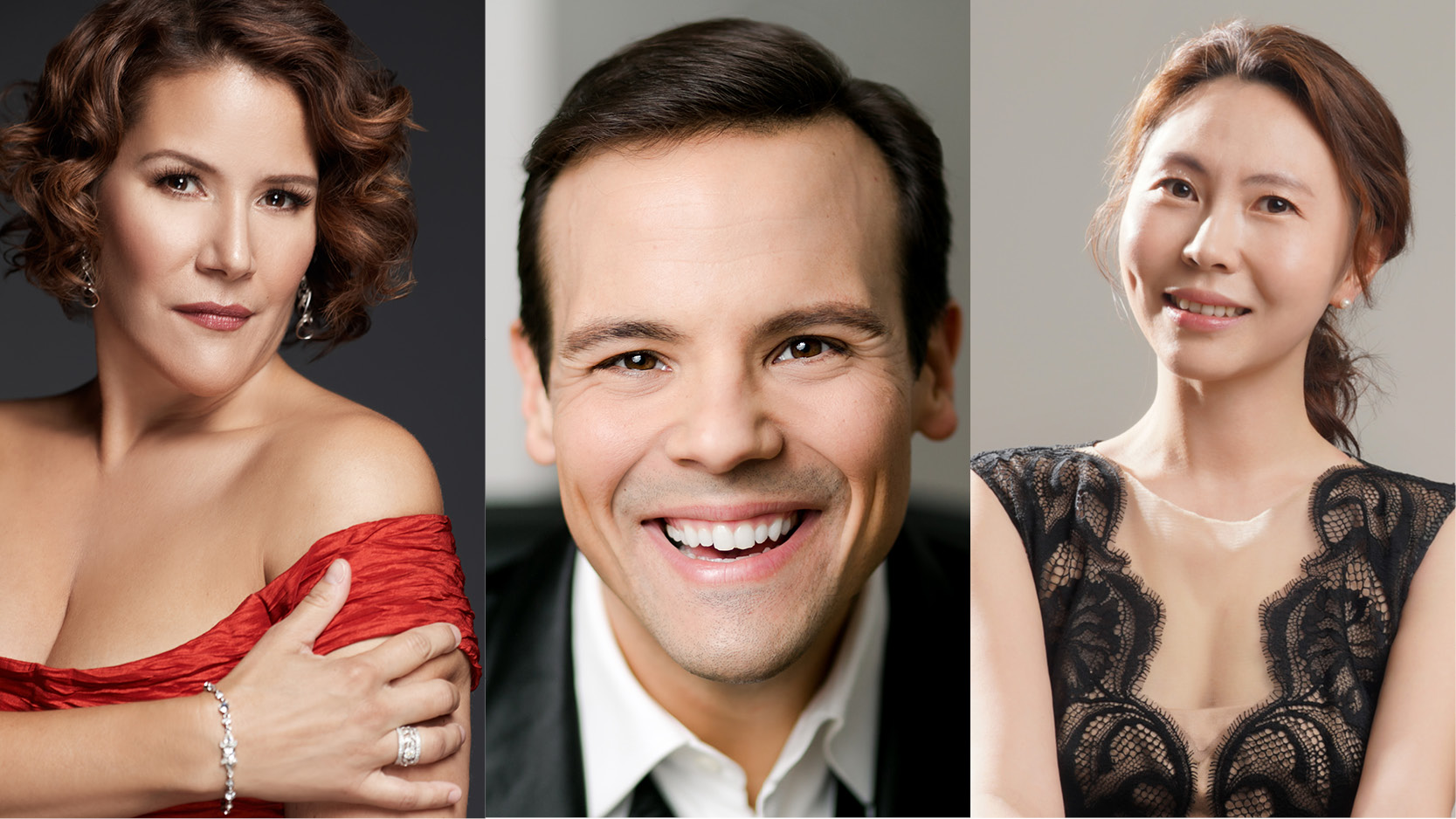 DANIELLE TALAMANTES, soprano
DAVID PORTILLO, tenor

GA YOUNG LEE,

pianist

 
PRESENT "CANCIONES DE MI CORAZÓN"
6:30 PM | The Mexican Cultural Institute | 2829 16th ST. NW, Washington, DC 20009

Program includes pieces by Ginastera, Turina, Dehlinger, Greger, Obradors, and Viardot-García.
Artist Bios
"It's not often that a fortunate operagoer witnesses the birth of a star!," critics hailed for DANIELLE TALAMANTES' recent role début as Violetta in La Traviata, a role she performed again in her Hawaii Opera Theatre début.
This season's engagements include Mahler's Symphony No. 4 and Carmina Burana with the National Philharmonic, Verdi's Requiem with both the Pensacola Symphony and North Carolina Master Chorale, the soprano soloist in Britten's War Requiem with Opera Roanoke, as well as concerts with Lyric Fest, The United States Naval Academy, Choralis, the Artist Series of Sarasota (with husband Kerry Wilkerson), the Washington Arts Ensemble, and the Music Center at Strathmore. Last season, Talamantes made her Washington National Opera début as Maria Hernández in Kamala Sankaram's Rise as part of their production Written in Stone, and recorded Mosaic for Earth at Virginia Tech. She performed Henry Dehlinger's Kohelet for the Washington Master Chorale and the Santa Clara Chorale, Mimi in La bohéme for Jackson Symphony, Beethoven's 9th Symphony for Fairfax Symphony, and the Artpark concert series with the Buffalo Philharmonic.
2020 engagements were to include a return to the Metropolitan Opera for Carmen along with over 10 concert engagements, including two world premiere pieces. In 2021, she appeared in the World Premiere of Henry Dehlinger's The Love Song of Alfred Prufrock for the National Philharmonic, as a soloist in Washington Concert Opera's Women's Suffrage Virtual Concert, St. Petersburg Opera's Virtual Concert Recital Series, in Close Encounters with Music's Virtual Opera Gala, and in recital with Kerry Wilkerson for Opera Roanoke.
Other recent engagements for Ms. Talamanates include the role of Mimì in La bohéme with Fairfax Symphony, her Hawaii Opera Theater début as Violetta in La traviata, Beatrice in Il Postino with Virginia Opera, and with The Metropolitan Opera for their production of Carmen. In addition, she appeared as a soloist in multiple classical masterworks including Beethoven's Symphony No. 9 with DCINY, Verdi's Requiem with the National Philharmonic, Fauré's Requiem and Vaughan Williams' Serenade to Music with Eugene Concert Choir, Brahms' Requiem with Riverside Choral Society at Lincoln Center, Fauré's Requiem and Mozart's Missa brevis in C Major with MidAmerica Productions at Carnegie Hall, Mendelssohn's Elijah with Choralis, Händel's Messiah with La Jolla Symphony, and in the National Philharmonic's Bernstein Choral Celebration concert. danielletalamantes.com
---
Praised by Opera News for "high notes with ease, singing with a luxuriant warm glow that seduced the ear as he bounded about the stage with abandon," American tenor DAVID PORTILLO has established himself as a leading classical singer of his generation. Projects for 2022-2023 include Tamino in The Magic Flute at the Metropolitan Opera, Ferrando in Così fan tutte with The Dallas Opera, Nadir in The Pearl Fishers with Austin Opera, Tonio in La fille du regiment with Minnesota Opera, Henry in Die schweigsame Frau with Bard Festival and Don Ottavio in Don Giovanni in Osaka, Japan. He will also join the St. Paul Chamber Orchestra for Britten's Serenade for Tenor, Horn and Strings and select Mozart arias, Jane Glover and Music of the Baroque as the title role in Handel's Jephtha, and present a recital as part of the Source Song Festival in Minneapolis. In the 2021-2022 season, David performed Lurcanio in Ariodante with the Palau des les Arts Reina Sofia in Valencia, Spain, Lysander in A Midsummer Night's Dream with Opéra de Lille and Tamino in Die Zauberflöte with Pittsburgh Opera. An accomplished recitalist, David Portillo collaborated with pianist Craig Terry for appearances with Vocal Arts DC, Harris Theater and the Cleveland Art Song Festival.
In the 2020-2021 season, David Portillo performed the title role in a filmed version of Albert Herring with Minnesota Opera, originated the role of Jonathan Harker in the world premiere of John Corigliano and Marc Adamo's Lord of Cries with Santa Fe Opera, gave a virtual recital with Valhalla Media Live and pianist Yasuko Oura, and was the tenor soloist in Bach's B Minor Mass with Orchestre Métropolitain in Montreal, conducted by Yannick Nézet-Séguin. In the 2019-2020 season, Mr. Portillo returned to the Metropolitan Opera to debut the role of Steuermann in a new production of Der fliegende Holländer, conducted by Valery Gergiev as well as Tamino in the English version of The Magic Flute, a role he repeated with the Washington National Opera. davidportillotenor.com
---
GA YOUNG LEE, a native of Seoul, South Korea, is a doctoral candidate in Piano Performance at George Mason University as a piano student of Dr. Linda Apple Monson, Director of School of Music. Also, Ga Young Lee is currently a Graduate Teaching Assistant as a collaborative pianist. She earned Master of Music degree in Piano Performance at George Mason University,
Bachelor of Music Degree in Piano Performance
at the Catholic University of Korea and pursued additional studies at the Ewha Womans Graduate School of Music in Seoul.
She won First prize from The Piano Society of Korea and was the Second place winner in both the Young Artist Piano Concours and Brahms Concours. In addition, Ga Young Lee has participated in numerous masterclasses for such artists as Simone Dinnerstein, Philipp Vogker, Yonghee Chun, and Barry Snyder and music festivals held in Saint Petersburg Conservatory, Russia, and the Royal Conservatoire of Scotland, Glasgow, New England. Ga Young Lee has performed as a collaborative pianist for George Mason's opera productions and accompanied many instrumental and voice studios at George Mason University.
Ga Young Lee was a recipient of Achievement Award in Graduate Performance, Dr. Linda Apple Monson Endowment Award and the College of Visual and Performing Arts Scholarship Award in 2019. Ga Young Lee was also selected as a featured Piano soloist of the Mason Honors Recital, Grand Piano Celebration Recital, and Arts by George since 2017. She is a founding member of Potomac Piano Trio and had the first trio recital in 2021. Ga Young Lee recently won a gold medal in the prestigious 2021 Grand Maestro International Music Competition and a silver medal in the 2021 North American Virtuoso International Music Competition. She was also selected as a winner of Mason's 2022 Concerto competition where she performed Beethoven Piano Concerto No.4 with the Mason Symphony Orchestra.
"From her strong opening notes to a final dying outburst, [Danielle Talamantes] completely commanded the stage, with body language, facial expressions, and the tiniest hand gestures to complement her virtuoso vocal character portrayal."
"Tenor David Portillo…demonstrated a beautiful and warm tone, along with an amazing breath control and impressive ability to sustain phrases in his two arias, easily producing faultless extended crescendos in the long phrases."
Wayne Lee Gay, Texas Classical Review
P.O. Box 42423
Washington, DC 20015