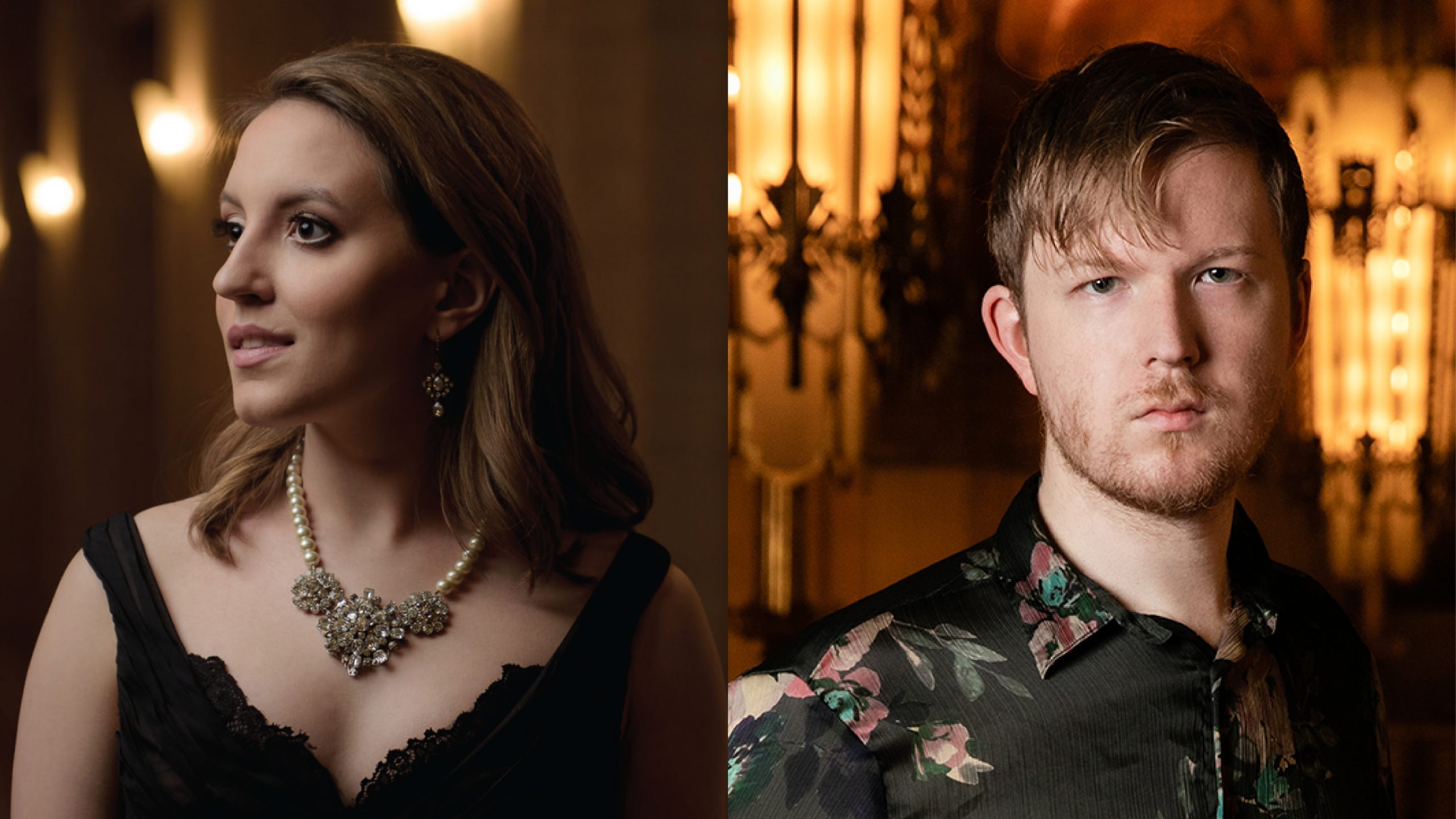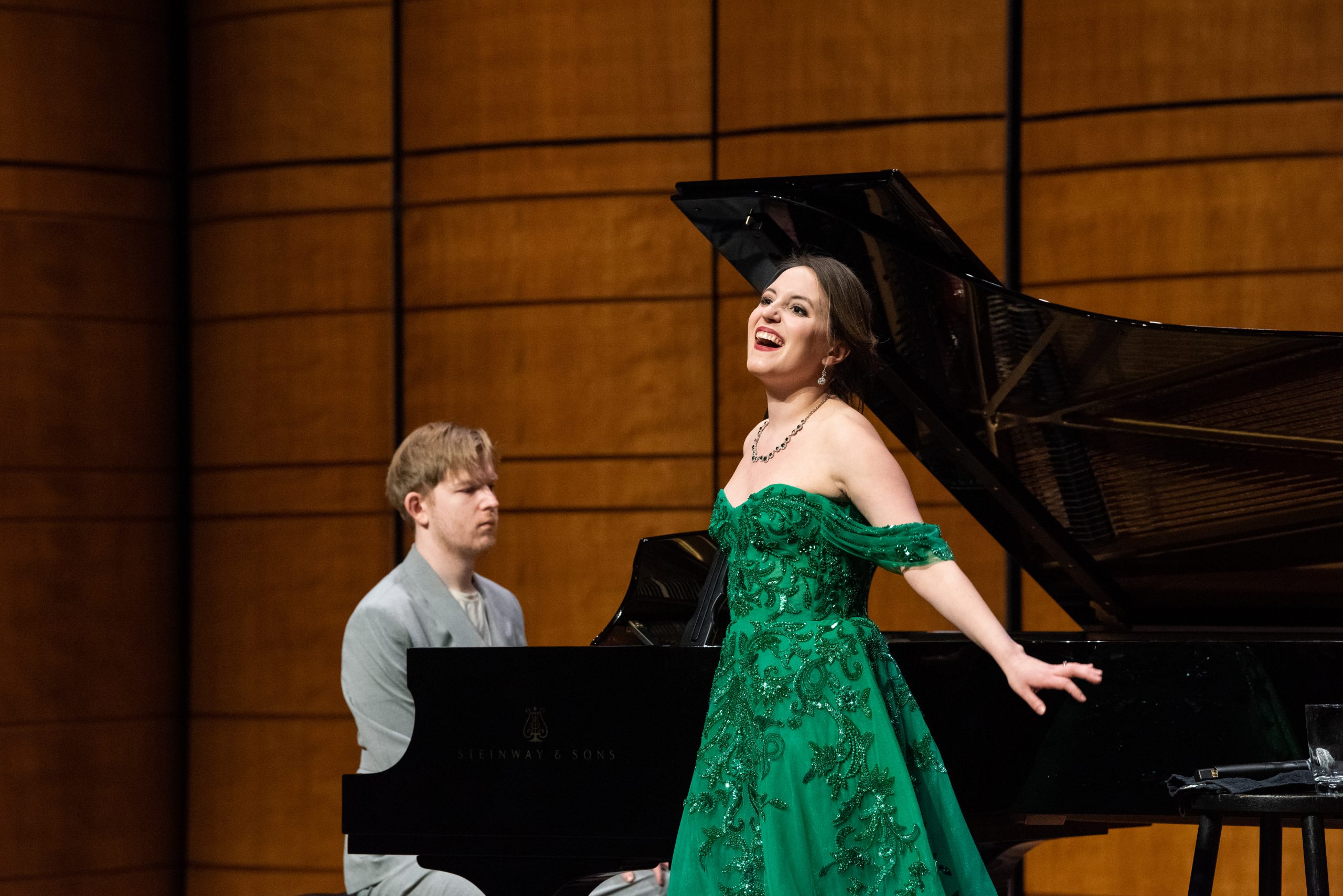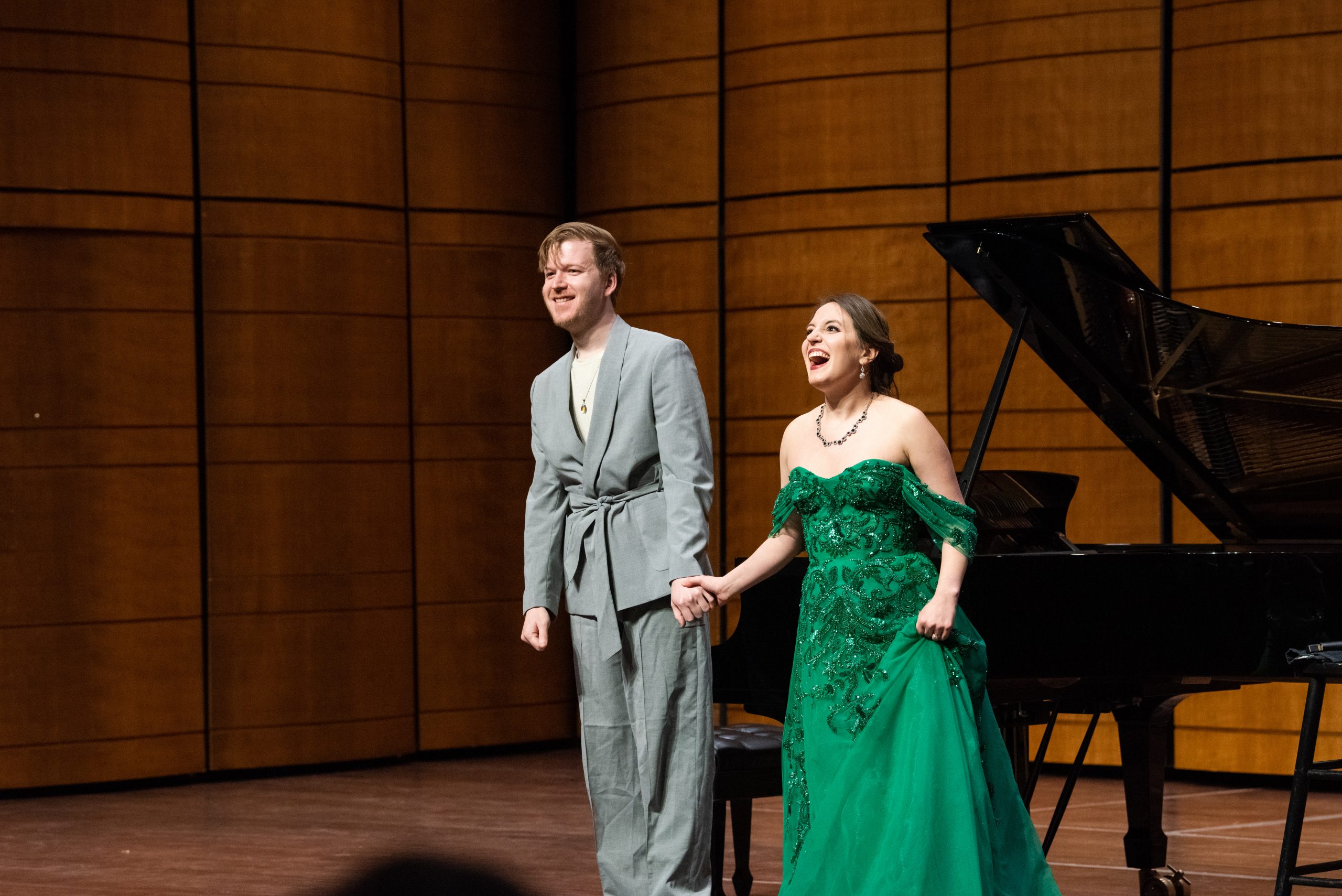 EMILY POGORELC, soprano
CHRIS REYNOLDS,

piano
THE GERALD PERMAN FUND FOR EMERGING ARTISTS DEBUT RECITAL
SUNDAY, FEBRUARY 19, 2023
2:00 PM at the Kennedy Center Terrace Theater

Technically, young soprano Emily Pogorelc is not a newcomer to Washington: while still an undergraduate at Philadelphia's Curtis Institute, she joined the cast of Francesca Zambello's 2018 Washington National Opera staging of Bernstein's Candide as Cunegonde to replace an indisposed colleague, scoring a triumphant local debut. She subsequently joined Lyric Opera of Chicago's prestigious Ryan Opera Center, and then immediately became a member of the ensemble at Munich's Bavarian State Opera beginning with the 2020-2022 seasons, where she has already appeared as Adina in L'elisir d'amore, Cherubino in Le nozze di Figaro and Lauretta in Gianni Schicchi. A 2021 winner of the Operalia competition in Moscow, she appeared during the 2022 summer season at the Glyndebourne Festival as Cherubino before returning to Munich for the 2022-2023 season.
Program included selections by Richard Strauss, Hugo Wolf, Nadia and Lili Boulanger, Andrew Hsu, Joseph Schwantner, Hwang Chan-Hee, William Walton, Francis Poulenc, Claude Debussy, and Erich Korngold. Download the program.
Artist Bios
Rising American soprano EMILY POGORELC is considered as one of the most gifted singers of her generation and is praised by critics and audience alike for her soaring, unique voice and her captivating stage presence. An alumni of Ryan Opera Center at Lyric Opera of Chicago, Emily Pogorelc is currently a member of the ensemble at Munich's Bayerische Staatsoper where she made a celebrated debut as Cherubino in Le nozze di Figaroduring the 2021 summer opera festival.
In the 2021/22 season, Emily Pogorelc can be heard in Munich as Adina in L'elisir d'amore, in another role debut, as Musetta in La bohème, and as Lauretta in Gianni Schicchi, among other roles. In 2022, the soprano makes her Glyndebourne Festival debut as Cherubino in Le nozze di Figaro. In concert, she performs Brahms' Ein deutsches Requiem with the Iceland Symphony Orchestra under the baton of Betrand de Billy and a program of arias written and heard by Mozart in 1771 with Classical Opera in London.
In the 2020-2021 season, the soprano, as part of her inaugural season as an Ensemble member with the Bayerische Staatsoper, sang Cherubino in Le nozze di Figaro, Sofia in Il signor Bruschino, Gretel in Hänsel und Gretel and as Ein Liebespaar/Suor Genovieffa/Lauretta in Il Trittico. Emily Pogorelc also appeared as soloist in a Baroque concert presentation, Violetta Valéry in Marina Abramović's 7 Deaths of Maria Callas and Zaunschlüpfer in Walter Braunfels' Die Vögel.
Cancellations resulting from the Covid-19 pandemic include Marzelline in Fidelio and Nannetta in Falstaff with the Bayerische Staatsoper, Servilia in La clemenza di Tito with Bergen National Opera in Norway, and her Glyndebourne Festival debut.
During her time as a member of the Ryan Opera Center at Lyric Opera of Chicago, she performed as Masha in Queen of Spades, Noémie in Cendrillon, and the Trainbearer in Elektra. Additionally, she covered Ilia in Idomeneo, Dalinda in Ariodante, Zerlina in Don Giovanni, Forest Bird in Wagner's Siegfried, and Woglinde in both Das Rheingold and Götterdämmerung. She also performed in scenes from La fille du régiment and Il barbiere di Siviglia with the Civic Orchestra of Chicago, in partnership with the Ryan Opera Center. Other engagements included recitals with Chamber Music at Bethany and Florentine Opera.
In her debut at Washington National Opera and the Kennedy Center, the young soprano portrayed Cunégonde in Francesca Zambello's production of Candide to great critical acclaim. At the Glimmerglass Festival, she has starred as Romilda in Handel's Xerxes, Johanna Barker in Sweeney Todd, and Berenice in Rossini's L'occasione fa il ladro, while covering Laurey in Rodgers and Hammerstein's Oklahoma! During her time at the Curtis Institute of Music, Emily Pogorelc performed as Lisette in La Rondine, Lucia in Britten's The Rape of Lucretia, Le Feu in Ravel's L'enfant et les sortilèges, Barbarina in Le nozze di Figaro, and Musetta in La bohéme. She has also participated in residencies at the Festival d'Aix-en-Provence (Mozart Académie) and the Britten–Pears Young Artist Programme at Snape Maltings, in conjunction with the Aldeburgh Festival (Singing Britten Residency).
Committed to the tradition of art song, the soprano performed at the Chicago Cultural Center with pianist Madeline Slettedahl and cellist Sonia Mantell in conjunction with the Musicians Club of Women in their 2019-2020 recital series. She has performed in recital at the Curtis Institute of Music, Chamber Music at Bethany, and Chautauqua Institution, and was selected as a competitor at the 2019 Wigmore Hall/Independent Opera International Song Competition with pianist Chris Reynolds. She has also appeared in recital on the WFMT Ryan Opera Center recital series. emilypogorelc.com
---
American pianist CHRIS REYNOLDS has made a name for himself as both a soloist and a collaborator. His performances have been hailed by Opera News as "exquisite," and played with "jaw-dropping virtuosity." In addition to being a C.V. Starr Doctoral Fellow at The Juilliard School, he recently began his second season at the Lyric Opera of Chicago as ensemble pianist for the Ryan Opera Center where this season he serves as assistant conductor for Sir David McVicar's new production of Verdi's Macbeth, conducted by Enrique Mazzola and starring Craig Colclough and Sondra  Radvanovsky, as well as Barry Kosky's production of Mozart's Die Zauberflöte, conducted by Karen Kamensek. Last season included performances with L.A.Opera, Santa Fe Opera, the Dame Myra Hess Recital Series, and the New York Festival of Song, as well as completing the run of Intimate Apparel, a new opera by Ricky Ian Gordon and Lynn Nottage  at the Lincoln Center Theater.
Recent performances include those at Bayreuth, Carnegie Hall, and Tanglewood as well as collaborations with WQXR, the Kyoto Summer Music Festival, and National Sawdust. He is a three-time winner of the Juilliard Vocal Arts Honors Recital Auditions, which has led to recitals in Alice Tully Hall with soprano Felicia Moore, mezzo-soprano Natalia Kutateladze, and mezzo-soprano Samantha Hankey. He has been a fellow at both SongFest and the Aspen Music Festival and School, and has worked at the Metropolitan Opera and Lincoln Center Theater as an opera coach/répétiteur. He has given a series of lecture-performances at Columbia University (on Schubert's Winterreise) and Union College in Schenectady (on Liszt's Piano Sonata and thematic transformation). 
During the summer of 2016 he joined the faculty of the Internationale Meistersinger Akademie in Neumarkt, Germany. His performances there were lauded by critics, including Mittelbayerische who described him as "exceptional" and commended his "sparkling energy and sensitive playing," as well as Onetz which described him as "brilliant." In 2015 he was a Schwab Vocal Rising Star at the Caramoor Center for the Arts as part of the NYFOS Emerging Artist Series, and presented two recitals of Italian and Italian-American song. These recitals were enthusiastically received by Opera News who hailed him as a pianist who "shows mastery of his instrument," as well as QOnStage which lauded his playing as "impressive and exquisite." He has had a long association with the New York Festival of Song (NYFOS), in particular with the eminent pianist and NYFOS founder Steven Blier, performing on numerous NYFOS concerts.
He has been on the voice faculty of the Mostly Modern Festival and William Paterson University. He holds Bachelor and Master of Music degrees from The Juilliard School, where he has studied with Julian Martin, Margo Garrett, Brian Zeger, Lydia Brown, Jonathan Feldman, JJ Penna, and Cameron Stowe.
Next season he looks forward to serving as assistant conductor for Lyric Opera of Chicago's commission of Proximity, a triptych of three new one-act operas by Daniel Bernard Roumain, Caroline Shaw, and John Luther Adams. Later in 2022 he will release his debut album, Past is Prologue with Lexicon Classics, featuring all of his own transcriptions of works ranging from Schumann to KPop. chrisreynoldspiano.com
"Pogorelc's rendition of 'Glitter and be Gay' is a standout highlight of the production: local opera fans ought to run to see this performance while she is still a newcomer."
Hillary Sutton, DC Theatre Arts
P.O. Box 42423
Washington, DC 20015